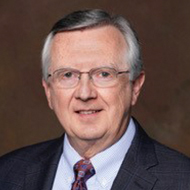 Gary W. Floyd, MD, a Fort Worth pediatrician and longtime member of the Tarrant County Medical Society, was elected president-elect of the Texas Medical Association  on Saturday, May 15. TMA's House of Delegates governing body announced elections during TexMed, the association's annual conference, held virtually this year due to the pandemic. He will serve in this role for one year before assuming the presidency of America's largest state medical society in 2022. 
"It's an incredible privilege and responsibility – and very humbling – for the members of our TMA to elect me to be the spokesperson for our organization," said Dr. Floyd. "I will never tire of advocating for our patients and our physician members."
TMA's president is the organization's primary voice to external audiences and to physician members – for advocacy and policy efforts, and in news interviews.
Dr. Floyd has been very involved in TMA and other organized medicine organizations throughout his 42-year medical career. He chaired TMA's Board of Trustees governing body for the past year, having served in that body for seven years. He led the board in a "disaster board" function last year, temporarily acting on urgent business in place of the association's policymaking body since the pandemic prohibited an in-person House of Delegates meeting. Board members explored a new diversity initiative as well.
"As chair, I led our board to initiate a task force to study equity, diversity, inclusion, and racism," he said. "I believe our TMA needs to seriously address these issues as we move further into the 21st century."
Dr. Floyd also was reelected today by the TMA house as a delegate representing Texas in the American Medical Association House of Delegates. He has chaired the TMA Council on Legislation and served on the association's Council on Constitution and Bylaws, and the Select Committee on Medicaid, CHIP, and the Uninsured. Dr. Floyd also was a district chair of TEXPAC, TMA's political action committee.
Dr. Floyd has several objectives planned for his presidency next year, which mirror long-term goals of the association.
"My goals include aggressively protecting against intrusions into the practice of medicine by those who have not done the necessary training, in order to protect our patients and unsuspecting citizens in Texas," he said. He also lists defending Texas' liability reforms and defending against intrusions into what he calls "the sacred bond" between physicians and their patients. He believes in protecting physicians' autonomy to make medical decisions with and for their patients.
The pediatrician assumes the presidency as Texas continues to vaccinate against COVID-19 and return to normalcy in life and patient care.
"I actively practiced pediatrics over 40 years, but with the COVID pandemic, I retired from daily patient care," he said. He continues to be very involved in medical management and organized medicine, however.
During the pandemic, TMA distributed millions of personal protective equipment masks to Texas physicians. TMA also guided many doctors in adopting telemedicine to remotely care for patients and provided other information and support for physicians to survive and thrive during the pandemic.
Dr. Floyd previously served as president of the Texas Pediatric Society and TCMS, and he was active in the American College of Physician Executives, and the Society for Pediatric Emergency Medicine. He is a fellow and board member of the American Academy of Pediatrics.
Dr. Floyd graduated from The University of Texas Medical Branch at Galveston and completed his pediatric residency at Children's Hospital of Oklahoma, University of Oklahoma Health Science Center. He pursued his undergraduate studies at The University of Texas at Austin.
Board certified by the American Board of Pediatrics, Dr. Floyd has practiced in various settings in Texas and Oklahoma including general pediatrics, academic pediatrics, and pediatric emergency and urgent care, and he has worked in administrative medicine and government affairs. He was the John Peter Smith Health Networks chief medical officer and executive vice president of medical affairs, then executive vice president of government and alumni affairs.
Active in the First Baptist Church of Keller, Dr. Floyd has been married 47 years to Karen Floyd, whom he met when they were in high school. "She is my best, most trusted friend," he said. The couple has two married daughters, Holly Peterson, married to Ben Peterson, and Neely Pedersen, married to Craig Pedersen, DO, and two grandsons, with another due in October.
TMA is the largest state medical society in the nation, representing more than 55,000 physician and medical student members. It is located in Austin and has 110 component county medical societies around the state. TMA's key objective since 1853 is to improve the health of all Texans.